Regular and firm support of the head and neck all night long.
Unmatched elasticity allowing it to shape itself to fit your body. Frequently used in mattresses and pillows for the level of comfort it provides.
A comfort matched only by its softness and robustness.
Extremely well ventilated, it also suits people who sweat at night. It is also naturally antifungal making it ideal for those who suffer from allergies.
Dimensions: 40 × 60 cm. 60 × 60 cm upon request.
If you would like more details or advice, contact us.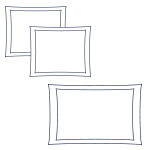 Inside: Perforated structure for enhanced breathability
Removeable and machine washable cover (30°C).
Discover our cabin linen articles