Weightlessness
A pillow is essential for a comfortable night's sleep. We work hand in hand with Pyrenex, a reference in France for down-filled pillows.
Simply let us know if you prefer a soft, flat, firm or supple pillow and we do the rest. We can also advise you in line with your sleeping position.
Worth knowing! Down and duvet pillows provide greater breathability than polyester, making it the ideal solution for on-board products.
If you would like more details or advice, contact  us.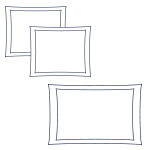 The down and duvet undergo intense cleaning and sterilization to enhance their hypoallergenic properties.
A pillow's comfort can be adjusted by modifying the proportions of down and duvet. The support offered is ensured by the density.
Care instructions: Our pillows can be machine-washed at 40°C and machine-dried.
Discover our cabin linen articles